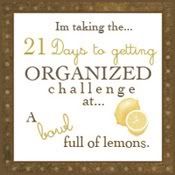 This weekend's challenge: the pantry. I was happy to see this one, because my pantry was definitely in need of some organizing after the holidays, when things got crammed in there every which way.
I kept groups of things in the same general location in the pantry. I pulled things out, sorted them to their proper locations, recycled any boxes I could eliminate, and pitched the expired crackers, pudding, and drink mix. I did all of this while I was making dinner, as the ground beef was browning and then as the
enchiladas
were baking. Since my pantry is about three steps from my stove, it worked out great.
I've used one odd container for a while now. See it there.... almost right in the middle? I use a cardboard box to protect our bread from getting squished, which is a pet peeve of my husband's. The height of the box also allows me to store tortillas laying flat on top of it, which works out great. It's not a particularly pretty organizing solution, but it works for us!
If you really look closely, you'll see that I buy a lot of store brand items. Most of the name brand items I buy were special sales or coupon deals. There are a few exceptions, and one was made very obvious to me as I sorted things out. Can you see it? Down in the bottom right corner? It's partially hidden, but anyway .. apparently I'm pretty partial to
Barilla pasta
. There were 8 boxes in there, all Barilla brand. LOL!
(This is not a sponsored post of any sort, just an observation of what I found in my own pantry.)
This was one organizing task I'm glad to have done... it's something that I will appreciate on a daily basis. What about you... have you organized your pantry lately?
Don't forget to join me here on Tuesdays and share what you've tossed this week!