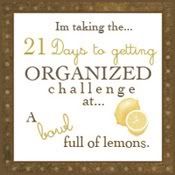 I just stumbled across this great challenge from A Bowl Full of Lemons. Each day she'll give you a new area in your home to get organized. I love this-- because really, cleaning and organizing are SO much more fun when you can share and cheer each other on. I know I won't be able to do every day of the challenge.... especially since I've already missed a few.... but I'm going to try and complete at least part of these daily challenges.
I think this will work well alongside my own
Tossed It Tuesdays challenge
-- it's just that someone else will be choosing the areas that I declutter. Come back and join me on Tuesdays to share what you've decluttered that week!